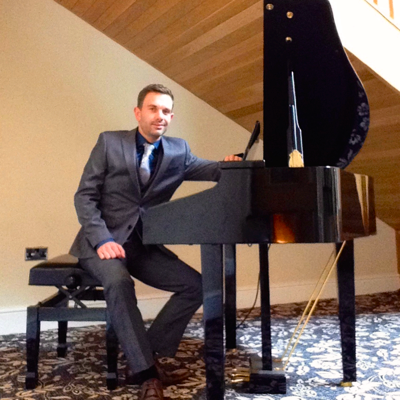 Booking your wedding music, you're bound to have hundreds of questions flying through your minds. Most of the answers should be on the other wedding pages of this site, but here are the most frequently asked questions and answers. Think of it as a mini online wedding consultation!
Have you played at my venue before?
Probably! Craig plays at a couple of weddings a weekend, all over the North West. He's played piano at most of the Lancashire wedding venues now, and some of them, such as Eaves Hall, The Villa, Mytton Fold and Samlesbury Hall, he plays at very regularly. Please feel free to ask about your specific venue.
My venue has no piano. Is that a problem?
Not at all! Craig has a number of top quality electrical instruments that can be provided for your event (meaning you can have music in different rooms without gaps for moving equipment), and are included for free in any wedding hire. If you'd rather an acoustic instrument like a grand piano, we can advise on the best places to hire from, and the best instruments to choose. For an additional fee of £50, we can liaise with the hire company to make all of the arrangements on your behalf.
Can you perform outside?
It is possible, but there are a number of factors that may affect the suitability of doing so, such as weather, shelter, electrical power supply etc. Please get in touch with your ideas, and we'll do our best to facilitate an outdoor performance. It's rare that we can't make it happen.
How much does it cost?
Solo piano starts at £120 for ceremonies, with additions for playing before or after the ceremony. Regular 45 minute sets, such as those you'd need for your wedding breakfast are £150 for the first, and £50 for each additional one. The higher "rate per song" for ceremonies allows for learning your music, as each of the six pieces will usually be a request provided by you.
All packages and prices can be found using the Packages and Prices link above.
Do you play requests?
All ceremony songs will be your requests. You have to have you own choices for your ceremony!
For other parts of the day, upto three requests can be included that aren't already in the repertoire, but after this a £10 charge per song (£15 for duos) becomes necessary to cover time for learning new material. It's better to give your musician an idea as to the sort of music you'd like, rather than an exact list of songs to play. The more flexible you can be, the more you'll allow your musician to read your guests and change the set as they play to go with what your guests seem to enjoy; Craig's experience means you can trust him to know what will work well. This also means that there's a better synergy between your music, your guests and the venue.
Do you need sheet music?
The simple answer is no. As a professional session musician, Craig is experienced in quickly transcribing (working out) and learning material by ear. That said, classical music is better played using sheet music, as there's usually more detail to work to. If sheet music is required, it would be included in the price of your wedding ceremony. For other parts of the day, there's a small charge of £2-3 for a piece of sheet music, which we'll source.
How much notice do you need of our song choices?
You'll need to give your local authority six weeks notice of your song choices for ceremonies, which is plenty of time. Advanced classical pieces can need longer though, so just give as much notice as possible.
Songs and styles for wedding breakfasts, wedding cocktail music etc can be provided up to two weeks before the day, but again, the more notice you give the better it allows your musician to prepare.
What styles do you play?
Craig plays all styles of music. He specialises in modern music, both popular and classical, in a mellow style that will allow your guests to enjoy the music without being forced to listen.
Although classically trained, Craig does not play classical as often these days (it just doesn't get requested much!), so just allow a couple of weeks more notice if you're choosing classical music; it's usually more detailed and technically demanding, so the time is needed to get it up to his usual high standard.
Do you have a playlist we can choose music from?
Craig's repertoire is well over 10 hours long, so it is impossible to list every song. There are sample set lists on the Playlists page though. The best bet is to let Craig know the artists, bands, styles etc that you like (and anything you don't!), and a set list of songs that work will be compiled based on what you like. This allows Craig the freedom to perform music that your audience responds to, whilst still keeping to the sort of music you want on your special day.
Where can we hear you play?
Craig's main work is as a session musician, performing with bands and singers. As a result, he doesn't play at public restaurants often, purely because he wouldn't be able to commit to a regular residency. You can hear demos of Craig's playing on the Audio page. If there's something specific you'd like to hear, just ask! Craig is more than happy to record a quick demo or two of your song choices.
If you'd prefer to meet Craig in person to discuss your music and hear some played live, a wedding consultation might be the answer. These are available from Craig's music studio in Preston; just email or call for details. You'll be able to listen to him playing the sort of music you're keen on and get answers to all the questions you have.
Are you insured?
Yes. As a member of the Musicians Union, Craig automatically receives public liability insurance up to £10million for time spent at the venue, and loading in and out. Most venues ask for musicians to be insured with PLI these days, and may refuse to allow one to perform without it. All documents will be forwarded to your venue around two weeks before your wedding (many venues have Craig's documents on file at all times anyway).
Craig's equipment is also PAT tested for electrical safety at regular intervals. These certificates can also be provided.
What will you wear?
Whatever you like (within reason)! Craig will usually perform in a modern lounge suit, or suit trousers and a waistcoat in hotter weather. He will always wear a tie. He can also play in a dinner suit and bow tie if you'd prefer. If you've a different theme that might suit different clothes, just let us know. If there is a colour scheme you'd like him to use or avoid, just say.
Do you require a meal / dressing room?
Only for whole day bookings (which include ceremony, cocktails, wedding breakfast and evening entertainment), which will usually require at least one change of clothes and refreshments etc. A meal need not be the posh meal your guests will be enjoying. A plate of sandwiches or something similar is more than sufficient.