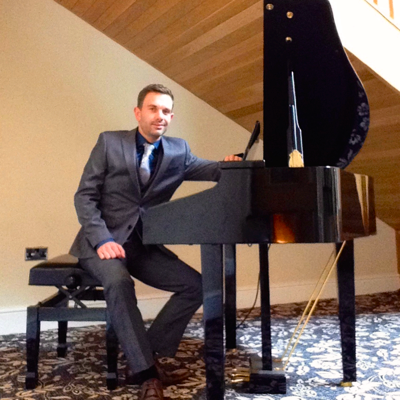 Since planning your wedding is a fun but stressful affair, we hope this page will help lighten the load. Please find below all the details you'll need when booking a wedding pianist, duo or wedding band for your big day. Also included are some of the details you may need to consider whether you're looking for a pianist for your wedding ceremony, wedding breakfast, wedding reception, or any of the parts in between. Finally, there are a few details of wedding bands and duos with whom Craig works at receptions and similar functions.
Just double-click the Show/Hide Info option beside any topic of interest to you.
At Craig Smith Music, based in Preston, Lancashire, we will always strive to let you get on with enjoying your wedding undisturbed. All liaisons on the day will be carried out with your best man and registrar/priest, meaning neither bride nor groom need take one moment out of enjoying the day to speak to us (unless, of course, you want to!). All wedding music, whether it is hymns, classical, jazz or perhaps even an arrangement of your favourite R&B track, will be confirmed well in advance, meaning there will be nothing to finalise in those last few days.
Most importantly, you need to relax and feel confident in our ability to add that special something to your day. We're always happy to give honest no obligation, advice on any aspect of your wedding music, even before you've asked us for a quote. Craig married in 2010, so he's well aware of the problems with people giving you the 'hard sell'. You won't get that from us. Nor will there be inflated prices at the mention of the word 'wedding'; our wedding music business Dream Day Music charges one flat price for it's services, be they for weddings, birthdays or any other similar function; we keep prices as low as possible so as not to price ourselves out of non-wedding performances. So, please have a good read of the information below (just click 'Show/Hide info' next to the topics of interest) and do not hesitate to get in touch if there's anything you can't find an answer to.
A civil ceremony allows you freedom with your choice of wedding music. Your choice will ultimately have to be approved by your registrar, but you will be able to choose how much or how little wedding music you use, and the styles and titles of that music. Many people like to have their wedding pianist or duo (such as a piano and flute duo) provide classical accompaniment to their service, but jazz standards and pop ballads are also requested very frequently by our clients; the choice is yours.
Religious music is unlikely to be approved. Songs such as Schumann's 'Ave Maria', a popular bridal march, will often not be allowed because of their sacred themes. Classical music with a similar feel, such as Pachelbel's 'Canon in D', could be considered as an alternative. The popular Bridal March "Here Comes the Bride" and Mendelssohn's 'Wedding March' are not religious, coming from an opera and an orchestral suite respectively. Contrastingly, it is becoming increasingly popular to have religious ceremonies that do not actually contain any congregational hymns. Sometimes our singers sing the hymns, sometimes they're replaced altogether with non-religious songs, despite the church setting.
There is also the opportunity to use music within the civil ceremony itself. In addition to processions and recessions (entrances and exits), and the signing of the register, you may be able to use music alongside or in place of readings. It is, therefore, more common for those choosing a civil ceremony to discuss music choices with the pianist or duo that will perform.
Craig, and the musicians he plays duets with (singers, flautists, violinists and saxophonists), are all experienced and accomplished performers. They will perform any style of wedding music from classical through jazz standards, theatre songs, pop songs, and even arrangements of your favourite dance music or heavy rock! There's very little that Craig Smith Music can't provide for your service, so get in touch, no matter how adventurous you'd like to be on your big day. We like a challenge!
This is a time for eating fantastic food, drinking wonderful wines and enjoying your first hours of married life with your nearest and dearest around you. Our usual brief during this phase of a wedding day is to provide simple, unobtrusive background music. "Lounge piano" is often the term used. Essentially, we're there to create an ambiance rather than entertain, but your guests are welcome to listen more closely and many choose to do just that. We always endeavour, though, to keep background music at a level that allows, rather than forces, your guests to listen in.
Many brides and grooms prefer classical piano or a flute and piano duets (see below) for what is still a largely formal part of their wedding day; others prefer discreet lounge jazz piano or swing classics to add a little class and sparkle. Especially popular at the minute are Craig's performances of contemporary classical pieces such as Einaudi or Yiruma compositions, which have had fantastic receptions from guests who recognise them from films and adverts. There are plenty of examples of such pieces on the audio page. Some couples provide a list of favourite love songs and ballads to be included, or their favourite singers and bands, and we find that pop songs work wonders for keeping the event relaxed if formality isn't your thing. Current and recently charting songs are a great way of keeping the younger guests entertained. A mix of all of the above always works well too, with something for everyone.
Whatever you want during your wedding breakfast, this is your first chance to make entirely your own choice. There are no registrars or church rules to take into account. Furthermore, requesting your favourite songs for your wedding breakfast means there are more songs to remind you of your special day in the years to come. For this reason, we'd always recommend you provide us with favourite songs ideas, favourite singers etc for us to shape a sat around, rather than asking us for sample set lists.
Most weddings involve some form of louder entertainment for the evening reception, whether it's a band or DJ. Craig has worked with several fantastic wedding DJs at venues throughout the North West, so we are happy to recommend several popular DJs, whether or not you're also looking for a wedding pianist, duo or wedding band.
Prior to both the evening reception and the earlier wedding breakfast, it is increasingly common to provide guests with some quieter background music to allow them to enjoy a cocktail reception, converse, perhaps watching the photographer at work or catching up with those they haven't seen for months or even years. In that respect, most treat the music for receptions prior to wedding breakfasts and evening receptions in exactly the same way as the music for the wedding breakfast itself. Piano and saxophone, or piano and vocal, duos are ideal for this part of the day! By far our most popular request is one of our piano/vocal duos, 2❤Close, who are one of the North West's best 'Live Lounge' style acoustic lounge music duos. They're closely followed by our sax duet option.
Allowing your guests the time to sit and get chatting means they are able to relax with friends old and new, which always helps the evening reception go off with a bang later. It is important to carefully choose both the musician(s) and styles you want, in order to set the right mood. In addition to Craig's solo work (see Wedding Breakfasts above), he is also available as a part of several wedding duos, providing duets of various styles (in addition to those on the audio page, further demos, or even small personal live performances(!), are available on request)...
Craig is available to perform with colleagues to provide the following duos:
2Close acoustic duo: available for weddings and special events, 2Close are a fresh duo offering Live Lounge style acoustic reworkings of classic songs right through to this week's chart hits. [Soundcloud Demos]
Violin and piano duo: Craig and a top session violinist are able to team up to provide a whole range of wedding music at both weddings and receptions, including classical, jazz, pop and swing music. [Request Demo]
Flute and piano wedding duo: duets for weddings and wedding receptions, performing various styles including classical, jazz / swing, pop, musicals etc. Perfect for a softer, more relaxed and gentle ambiance. [Request Demo]
Saxophone and piano duo: with various wedding saxophone players, usually performing swing, jazz or pop / soul classics. A saxophone duo is equally comfortable with flashy uptempo numbers and mellower ballads, so can be shaped to suit your own wedding's specifications and themes. [Request Demo]
Craig is now managing 110thStreet, a function and wedding soul band.. The band - recently referred to on the Lancashire Evening Post weddings webpage as a "wonderful band" - are a collective of full-time professional session musicians, backing their sensational new vocalist Kate Torevell, and perform soul hits old and new from the likes of James Brown and Stevie Wonder to Adele and Bruno Mars, plus a few unexpected soul versions of other tracks like LMFAO's 'Sexy and I Know It'! Their first wedding entertainment performance in their reformed line-up in 2012 received a superb reception and entertained a full dance floor throughout the night. 110thStreet packages start from as little as £465 for a limited time, and the band is available as a 5-piece and with optional additions of 3 horn players and a percussionist.
For those looking for something a little different, Craig is also the keyboard player with Merseyside 'indie-folk-rock' originals band Jessicas Ghost, who in recent years have amassed a large following and great reputation far afield for both public and private events. Jessicas Ghost have supported such bands and artists as Spin Doctors, The Charlatans and Badly Drawn Boy amongst many others. For more details about Jessicas Ghost, visit the band's website jessicasghost.co.uk. You can 'like' them at facebook.com/jessicasghost.
We are available to provide wedding piano music and wedding duos (flute, vocalists and saxophone) throughout Lancashire:
Wedding piano in Preston: Churches, hotels and other venues throughout Preston, including but not limited to Broughton, Deepdale, Fulwood, Haighton, Penwortham
Wedding piano in rural Preston/ Fylde: Churches, hotels and other venues including but not limited to those at Bartle, Blackpool, Garstang, Kirkham, Longridge, Lytham, Lytham St Annes, Pilling, Wrea Green.
Wedding piano in Central Lancashire: Churches, hotels and other venues including but not limited to those at Chorley, Crosston, Farington, Hogton, Leyland, Whittle-le-Woods.
Wedding piano in Blackburn & East Lancshire / Yorkshire Border: Churches, hotels and other venues including but not limited to those at Accrington, Burnley, Chipping, Clitheroe, Colne, Gisburn, Langho, Mellor, Samlesbury, Towneley, Whalley, Whitewell.
Wedding piano in North Lancashire / South Lakes: Churches, hotels and other venues including but not limited to those at Carnforth, Garstang, Kendall, Lancaster, Morecambe, Pilling, Tunstall.
West Lancashire: Churches, hotels and other venues including but not limited to those at Chorley, Crosston, Heskin, Ormskirk, Rufford, Southport.